To read restaurant reviews sorted by rating, go to the Restaurant Guide and sort the table by clicking the Rating Column. To jump to a specific restaurant rating press <CTRL> F and type in what you're looking for.
Ratings Explained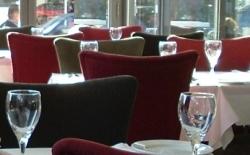 We have four ratings: *, Above Average, Average and Avoid.
Ratings are subjective and reflect the meal we had. It may not be typical of every meal the restaurant serves. You could have a completely different experience. However, we believe good restaurants offer consistency. Our experience with repeated visits to the same restaurants confirms that the best restaurants consistently serve outstanding meals.
For our ratings, food quality is the most important factor; price, service and ambiance are secondary considerations.
Restaurants marked with an "*" are ones we consider to be exceptional. They are the best of the best in Toronto. They consistently serve some of the finest meals we have had in this city. A significant number of the restaurants in this category offer very affordable menus.
"Above average" restaurants are very good dining establishments and are worthy of your attention. Many of our favorite restaurants fall into the "above average" category.
Restaurants rated "average" did not impress us. There are thousands of restaurants in Toronto that fall into this category. The food they serve does not stand out above the competition. This does not mean they are bad restaurants. But mediocrity should never be a dining destination.
Restaurants receive an "avoid" rating if they deliver a combination of any of the following: serve below average food, are considerably overpriced for what they offer, have terrible service, or cleanliness is less than adequate.