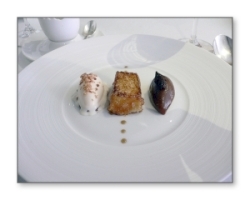 TorontoRestaurantReview.com is among only a few online dining guides that provide a thorough and thoughtful review and rating for every entry. Most guides simply fill their pages with Toronto restaurant listings much like a phone book. Alternatively there are many discussion forums and bulletin boards that publish personal reviews but these lack consistency as reviews and reviewers can vary widely.

With the above in mind, the following is a list of links to the best of these guides as well as a few noteworthy blogs by culinary enthusiasts. (Depending on your browser, clicking on a link will open either a new window or tab.)

Several writers contribute to this restaurant and food blog which covers more than just Toronto.
A food blog mainly interested in the ingredients, techniques and processes that make food taste good. Great pictures and reviews of restaurants too.
Catherine Jheon, a FoodTV producer shares her dining favorites on the CBC.
Mostly musings by the noted chef.
A discussion forum for foodies, a great way to read what the masses think.
They don't write restaurant reviews, instead they share entertaining stories about going to restaurants.
Food and restaurant discussion board.
Geared more toward bars and pubs they nevertheless offer great coverage and fairly succinct reviews.
Although coverage is biased toward Queen West and more affordable restaurants ("restos "as they call them) NOW provides fairly good reviews. Be warned the "hip" writing can grate.
Mostly Toronto Star reviews but a good portal to the city.
While primarily covering brunch spots, they also review other restaurants.
Reviewers are not anonymous and receive the best treatment a restaurant can offer. In other words, you'll never experience what they write about. However they do have broad coverage of restaurants, especially the ones to visit on an expense account.
Zagat surveys thousands of diners across North America for their restaurant ratings. Using a 30 point scale covering food, decor, service and cost, they correlate the findings for their publication.